We are an authorized TFC Distributor with different affiliate dealers in Canada promoting TFC Video on Demand services. We provide TFC information, easy access on how to order TFC and easy methods of payment as alternative to regular payment so that anyone interested will be able to acquire TFC easily.


What is TFC?
TFC is short for The Filipino Channel, the ABSCBN Filipino Channel 2 broadcast from the Philippines. The broadcast is captured, recorded and re-broadcasted through internet to your TV. It commonly known as TFCko or TFC on Demand or TFC IPTV. It is a "next generation" medium to bring Filipino TV entertainment to all Filipinos in the world through high speed internet. A set top box (STB) needs to be purchased needs to be connected to your TV and to your internet router in order to receive the pre-recorded broadcasts from the Philippines and other select TFC Filipino news programs around the world. There is a low monthly fee associated to receiving TFC service.
TFC offers you and your family a new and exciting viewing experience through its Video-On-Demand service:
Convenient and flexible - watch anytime of the day. Watch whatever you want, whenever you want.
No TV commercials. Therefore, saving you time.
Hundred of hours of TFC archived content of teleserye's and dramas dating back to the first episode. Therefore allowing subscribers to easily catch up with the storyline.
Contents in TFC are always fresh, updated daily within 3-5 hours of airing in Manila.
TFC allows subscribers to fast forward, rewind, and pause using very own remote control. Much like having your own DVD or PVR HD / MPEG4 quality video allows the picture and audio quality to be as clear as what you get on a typical TV, cable, or satellite channel.
Variety of programs available in TFC. Ranging from news to sports, teleseryes (comedy - drama), special shows and concerts, movies and even Karaoke are just few of the options.
Easy installation, simply connect to your TV and INTERNET broadband connection (at least 2 Mbps speed is required). We have 24 hours technical support available to help.
Pay-per-view options allow you to purchase newly released movies.
You do not need to go out and buy movies but simply stay in the comforts of your home.
TFC is very simple to use. See illustration below on how it works: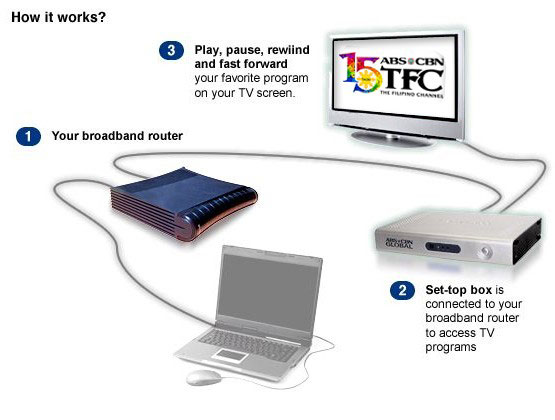 TFC Installation Procedure:
Connect TFC IPTV Video on Demand SetTop box (STB) to any TV input  (CRA or HDMI cables included).
Connect TFC IPTV Video on Demand SetTop box (STB) to Internet Router (Cat5 network cable included).
Switch TV input to Video. If connection is complete, a TFC toll free number will appear after 1 minute TFC IPTV box initialization. For any TFC installation support, please call 1-855-832-2632 anytime.
Call the TFC toll free activation number shown on the screen to activate the Video on Demand Set Top box (STB).
Enjoy your new TFC Canada service! Watch all the best Filipino TV shows available.

Disclaimer:
fvfoods.com website is not the official website of ABSCBN's TFC Canada. However, fvfoods.com is an OFFICIAL TFC Canada Distributor. The Filipino Channel (TFC) is ABSCBN's medium in reaching all the Filipinos all over the world to connect back to their motherland, the Philippines through different technologies. TFCko or TFC is broadcasted from Manila through the internet over high speed broadband. TFCko, TFC, TFCnow, TFConDemand and other trademarks are owned by ABS-CBN and other trademarks that may be seen here are owned by their respective owners. For the official TFC Canada website click HERE. We strive to make sure all information in this website is accurate, informative and current. However, some information may not be guaranteed and some may be subject to change without notice. Also, we take your privacy seriously and any information given to us is kept with utmost confidentiality. If you have any questions or comments, please email us at [email protected]