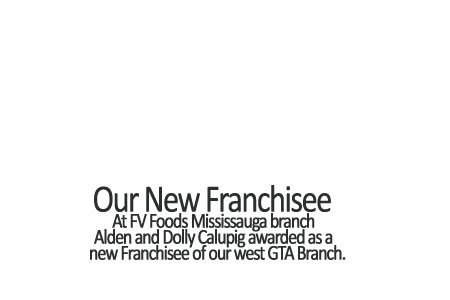 FV Foods Mississauga branch under the company name 2438394 Ontario Corp. is owned by spouses Alden and Dolly Calupig.
Alden Calupig is a licensed Civil Engineer in the Philippines and has worked with the government firm prior to his migration to Canada in the late 80's. In Canada, Alden runs his own general contracting company ACDC Contracting specializing in all types of renovations for more than 20 years serving different clients from Scarborough and other nearby areas. While running his own business, Alden also worked with different well known builder like Tridel and Paradise Homes. He also used to work with big company like Aecon doing Materials Testing.
Mrs. Dolly deLeon-Calupig on the other hand is not new to customer service business as she had been working for a retail management for more than 30 years up to the present and currently holds the position as Store manager. They are blessed with two sons, Lloyd Andrew who is currently taking up BS Accountancy and Aaron James who helps the family in running the FV Foods franchise as its Operations Manager.